Who is the Zsa-Zsa Duo?
We are Jutka Mándoki and Barbara Deutsch, two conservatory-trained musicians living in the San Francisco Bay area, who both sing and play a variety of Western and Eastern European musical instruments.

We have Hungarian roots, and yes dahling (as Zsa Zsa Gabor would say) she inspired our name!
Jutka Mándoki
Jutka was born in Budapest and grew up in the San Francisco Bay area's East Bay. She is trained and credentialed in classical piano performance (MM in Music) and was introduced to Eastern European music via dance. In recent years she has branched into playing accordion, cimbalom, koboz, viola, guitar, bass, tekerölant, and ütögardon.

Jutka speaks Hungarian fluently, and sings in Hungarian and Romanian. She has studied Eastern European vocal styling with members of Kitka. You may also remember her as the former co-owner of The Hungarian Sausage Factory and Bistro in San Francisco.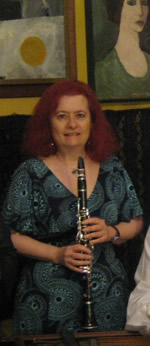 Barbara Deutsch
Trained in classical clarinet at the Oberlin Conservatory of Music, Barbara switched gears and received her BA in Ethnomusicology from UCLA.

Over the years she's studied with renowned clarinet teachers, including Ivo Papasov, Sami Zakirovski, Selim Seslar, Sergiu Balutel, and Ismail Lumanovski. With various ensembles, Barbara has toured parts of the US and Europe.

Her specialties today are in Hungarian, Romanian, Greek, Balkan, and polka music. Besides clarinet, Barbara also plays soprano sax and fluier (Romanian folk flute).
---